Entertainment
Guitar World Verdict

The 417e is one great looking non-cutaway with its own personality, sophisticated tones and excellent playability. Similarly, the 412ce is a fantastic stage acoustic that looks superb in sunburst, speaks with a richer, louder voice than expected. But if you want this quality, you had better be prepared to pay for it.
Pros

+

Superb playability.

+

Great looks and impeccable build.

+

Both are ready for the stage.

+

V-Class bracing.
Cons

–

Hard to fault, but they are expensive.
You can trust Guitar World
Our expert reviewers spend hours testing and comparing guitar products so you can choose the best for you. Find out more about how we test.
Taylor's chief designer and CEO Andy Powers has been working his way through each of the company's acoustic guitar ranges, upgrading and modernising them to the latest specs. 
This has included the launch of new body styles, such as the Grand Pacific shape featured in the American Dream Series and on the 417e we see here, adding the groundbreaking V-Class bracing system along the way, and sourcing alternative timbers such as urban ironbark, and some less outrageously figured koa.
The 400 Series represents "the most accessible presentation of solid rosewood/spruce guitars in the Taylor line", we're told: a pairing of Indian rosewood and Sitka spruce. 
There are three instruments in the series, the two we have on review, plus the Taylor classic shape, the Grand Auditorium 414ce, which sits in the middle, size-wise, of the trio. All three are priced identically and, other than the obvious differences in outline, share identical specifications.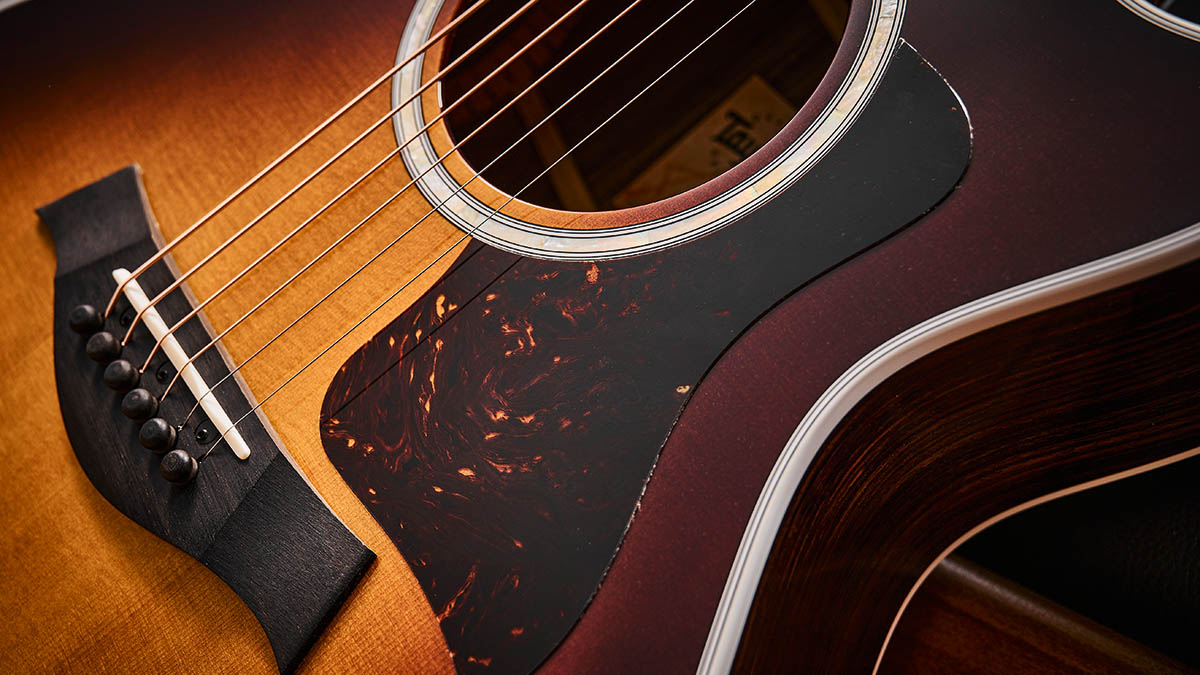 So, what we get is dark and straight-grained East Indian rosewood on the bodies, solid Sitka spruce tops with tobacco sunburst finish, neo-tropical mahogany necks and Crelicam ebony fingerboards. Taylor's evergreen Expression System 2 powers all three, the shoulder-mounted volume, bass and treble controls there to tailor your tone with the minimum of fuss.
The bodies on all the guitars are gloss finished, using a handsome Gibson-style dark tobacco fading into vibrant red and yellow, while the mahogany neck and headstock are satin coated for as frictionless a feel as is possible. The headstocks are scarfed on to prevent waste and also to provide extra strength, while the heels are also two-piece.
Such is the mix of exceptional joinery and judicious brown staining that glue lines are all but invisible. As you will know, the necks on Taylor guitars are invisibly bolted on, making complicated resets a thing of the past, as changing the neck's pitch is now just a case of adding or removing shims.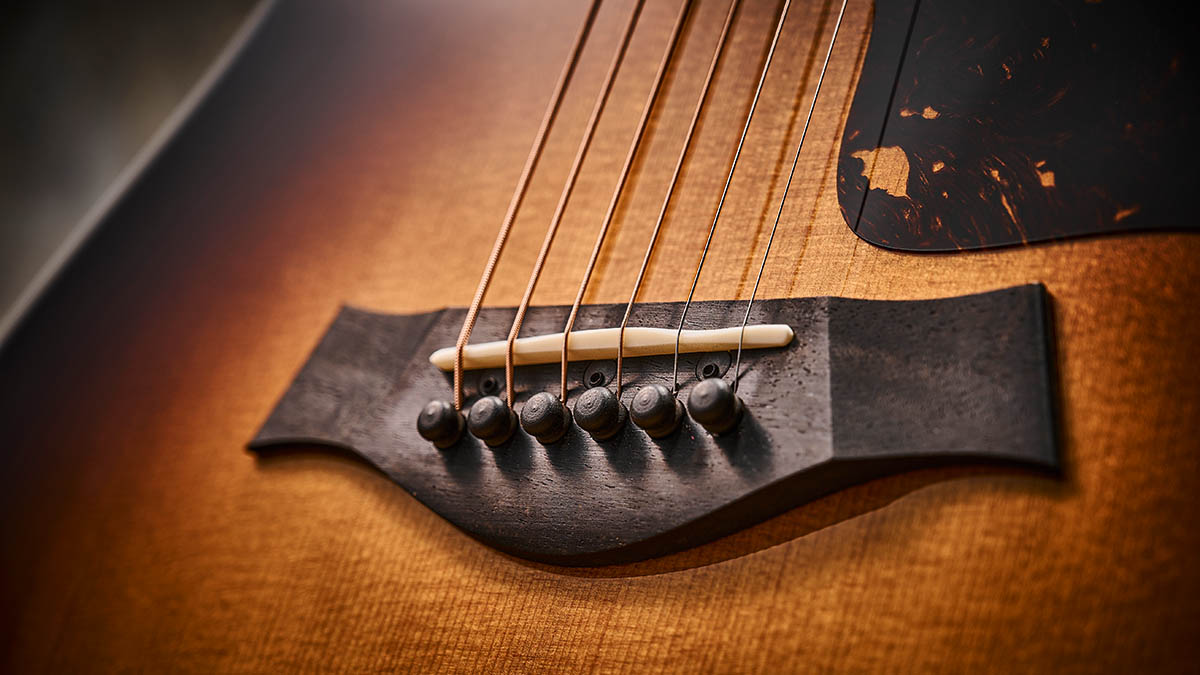 Hardware is simple, with Schaller-made Taylor sealed tuners and a flip-top battery compartment sited adjacent to the combination jack and endpin. As always with Taylor, a second strap button is located on the underside of the heel so the guitars are stage-ready from the off.
The button was initially placed here due to the neck bolt making bottom-of-the-heel mounting impossible, but it's such a great position for playing standing up that it's become popular with other makers and guitar repairers, too.
Along with the sunburst finish, also new for 2023 are the inlays, which include an agoya shell soundhole rosette and Italian acrylic 'Finial' fret markers that, says Taylor, "evoke flourishes found in carpentry and architecture".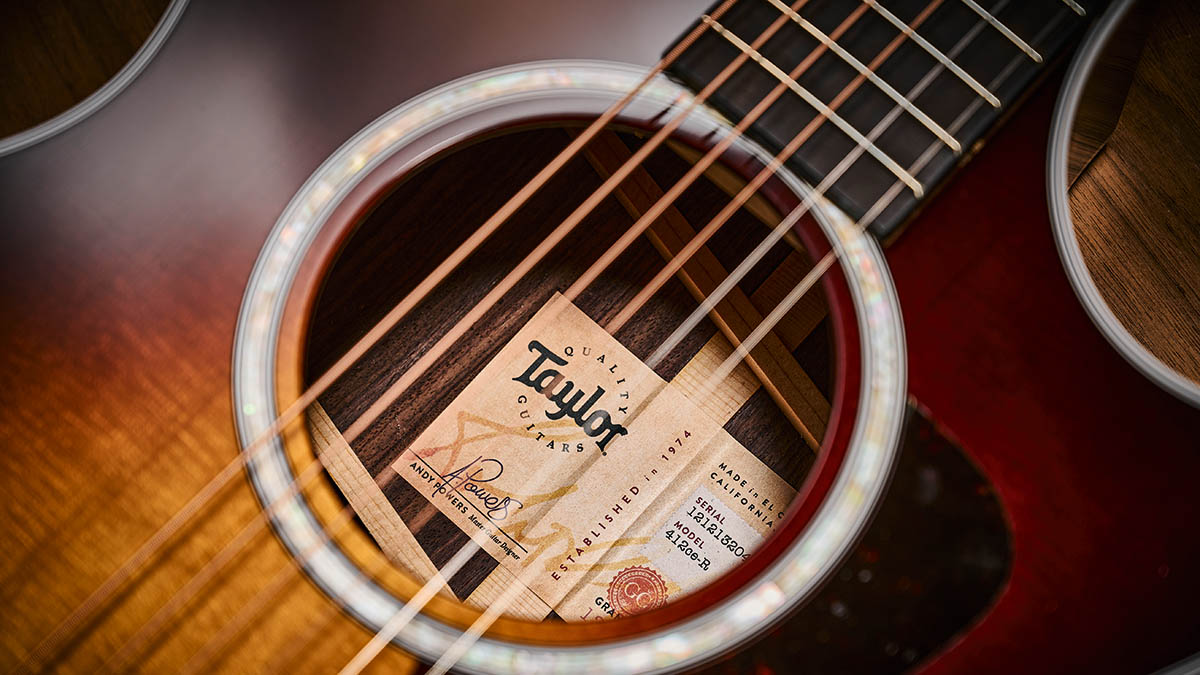 Scouring these models with a critical eye it's impossible to find fault. Everything – from the woodwork both inside and out, to the finish, the inlays, fretting and setup – is perfect. "Well," you might say, "it's all computerised machinery these days, isn't it?" True to a point, and why wouldn't a company use laser etching for stuff like inlays, or CNC routers to carve out body blocks and necks? 
But having visited most of the major manufacturers around the globe, including Taylor, we've found that it's impossible to build a guitar without a huge amount of human intervention at every stage. So, computers and lasers aside, there's an inordinate level of guitar craftsmanship evident in both of these instruments.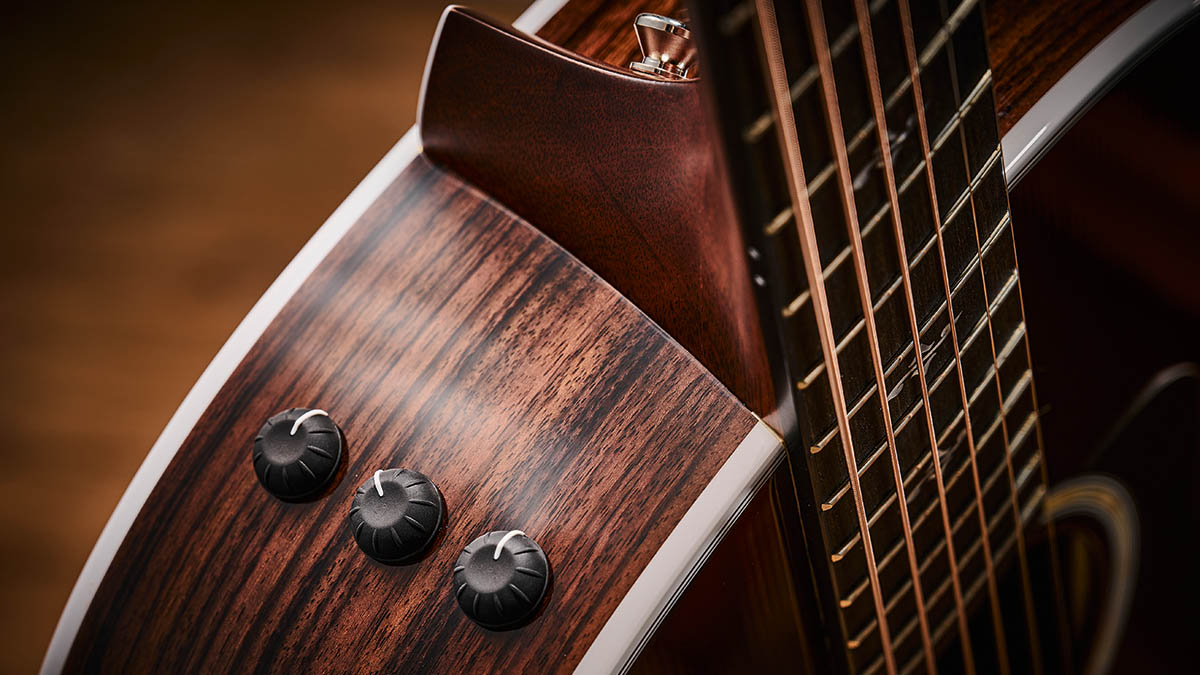 Feel & Sounds
Taylor's necks have long been a major source of pride for the company. The guitars' playability has always been exceptionally easy, allowing musicians to play long stints without overly tiring the hands. Our two new review models are no different – although they are markedly different from one another.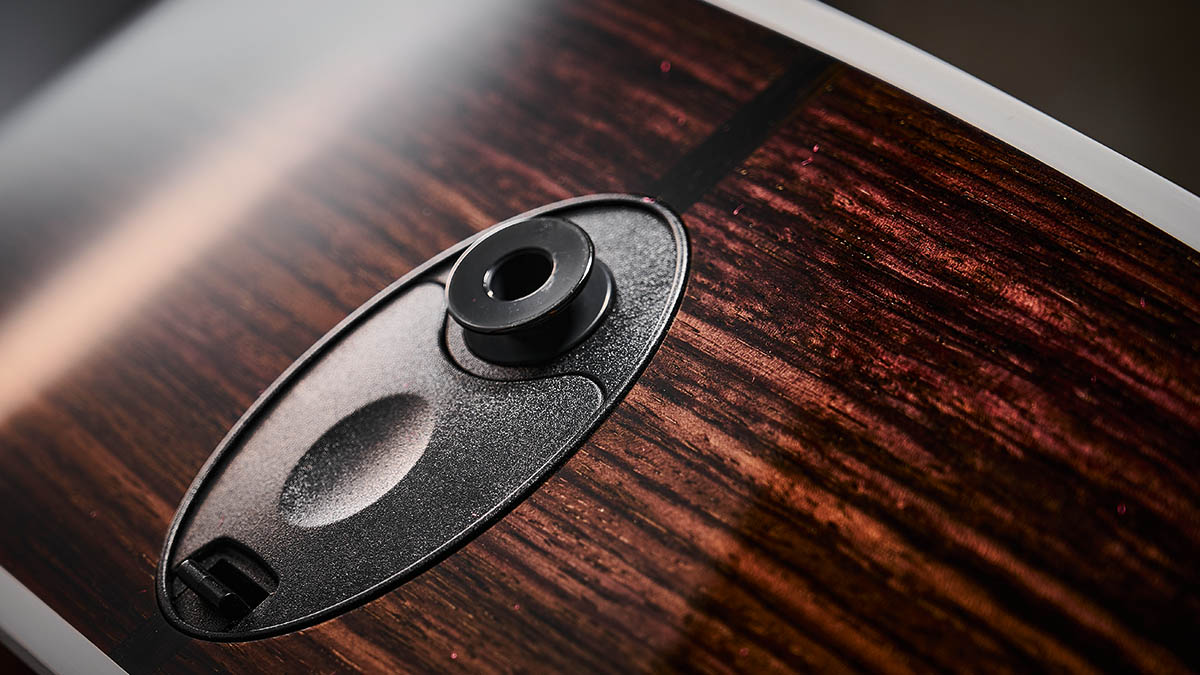 The 417 features a typical 648mm (25.5‑inch) scale length, whereas the 412 has a shorter scale, 632mm (24.875 inches or 24 and 7/8 ths of an inch in old money). This, and its smaller overall size, makes for a much more compact playing experience.
The cutaway, too, lends a modern vibe to things, but as it also opens up much more of the fingerboard you're never left feeling cramped. Perhaps oddly, the 417's longer scale on its 14-fret neck join (with no cutaway) feels equally spacious and welcoming.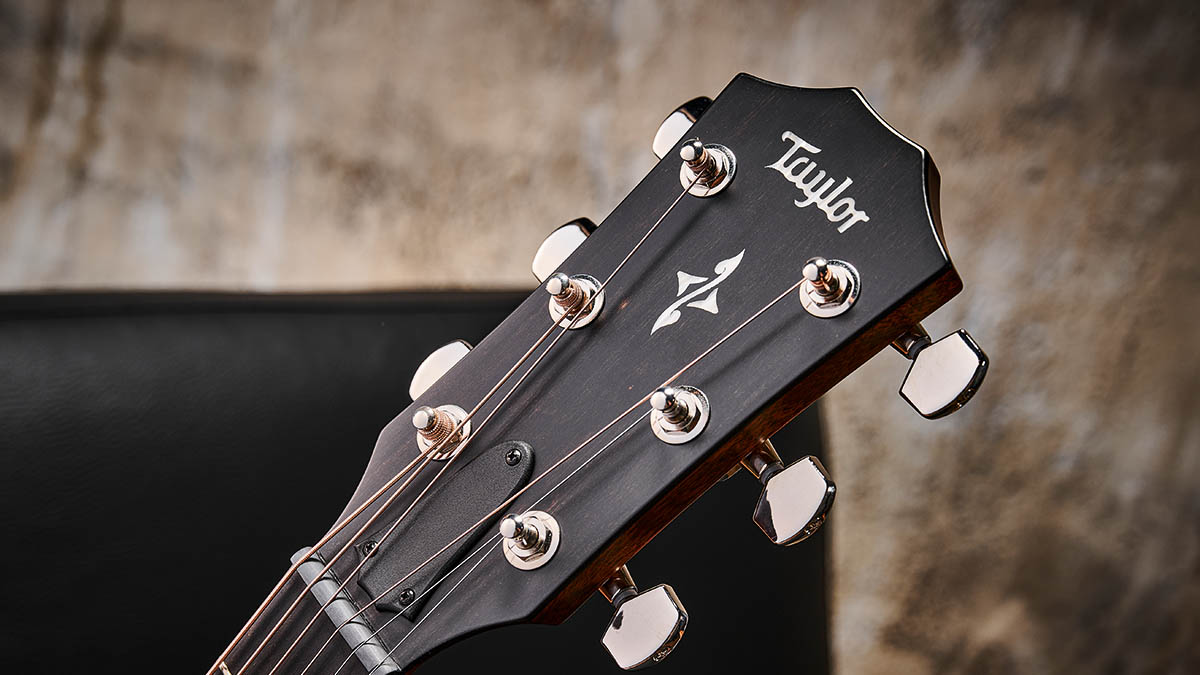 Two very different beasts, but their slightly V'd, C-section necks feel similar and familiar. The actions on both are spot on, their 44.45mm nut widths affording spacious chording, while the tidy fretting and medium to low action make barring the neck relatively effortless, and no barrier to playing lead licks, either.
It's hard not to have preconceptions about how different acoustic guitars will sound based on construction materials, body size and so on. And that is no different here. Guitar manufacturers have not loved the rosewood and spruce combination for nothing. It's renowned for producing power, clarity and balance, and both these guitars have it in spades.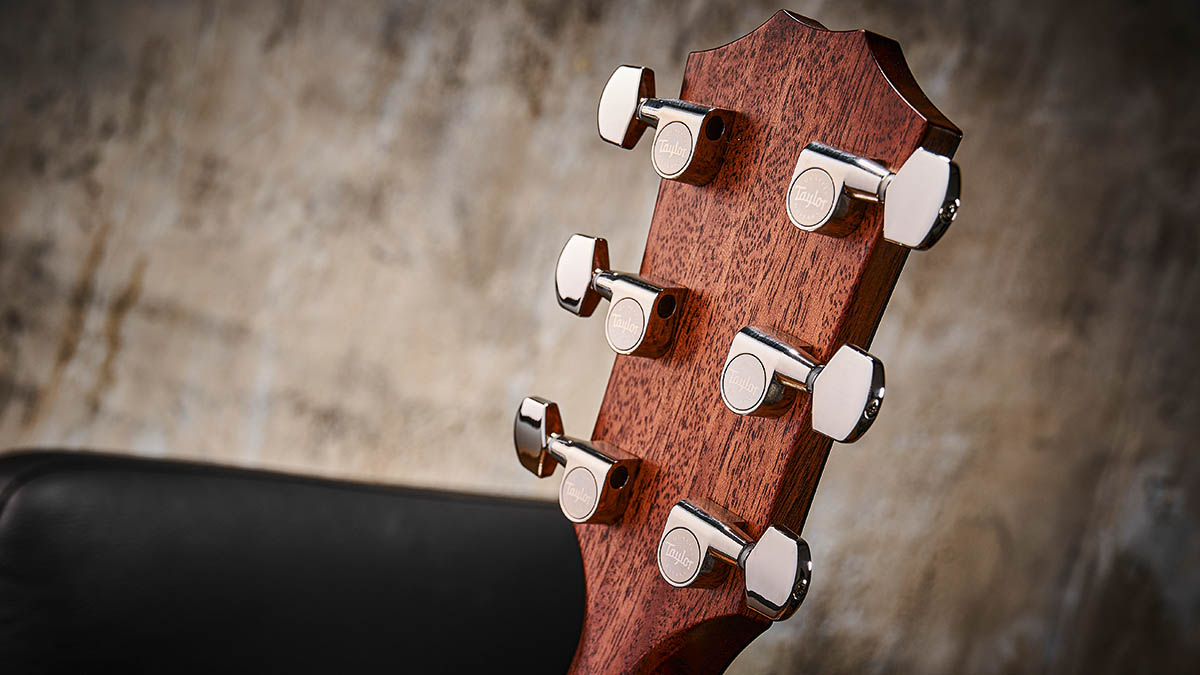 We did expect, however, the larger Grand Pacific to be the bruiser and Grand Concert to speak with a rather more polite voice. But there's a more subtle range of tones than that, the 417 speaking loud and clear with sweet trebles and commanding bass. Taylor says the V-Class bracing slightly scoops the middle frequencies, but it's by no means lacking here.
The 412 is perhaps the more surprising of the two, since it's both louder and richer sounding than we expected, with maybe a tad less at each end of the sonic spectrum – the cliché there being that this focuses it better as a fingerpicker, but it's no slouch as a strummer, either.
Taylor's proprietary Expression System 2 design is intuitive to use and sounds about as natural as any onboard preamp around. You can actually get quite convincing acoustic sounds through a clean guitar amp such as a Fender Deluxe Reverb, too, but, of course, a dedicated acoustic job is that much more authentic.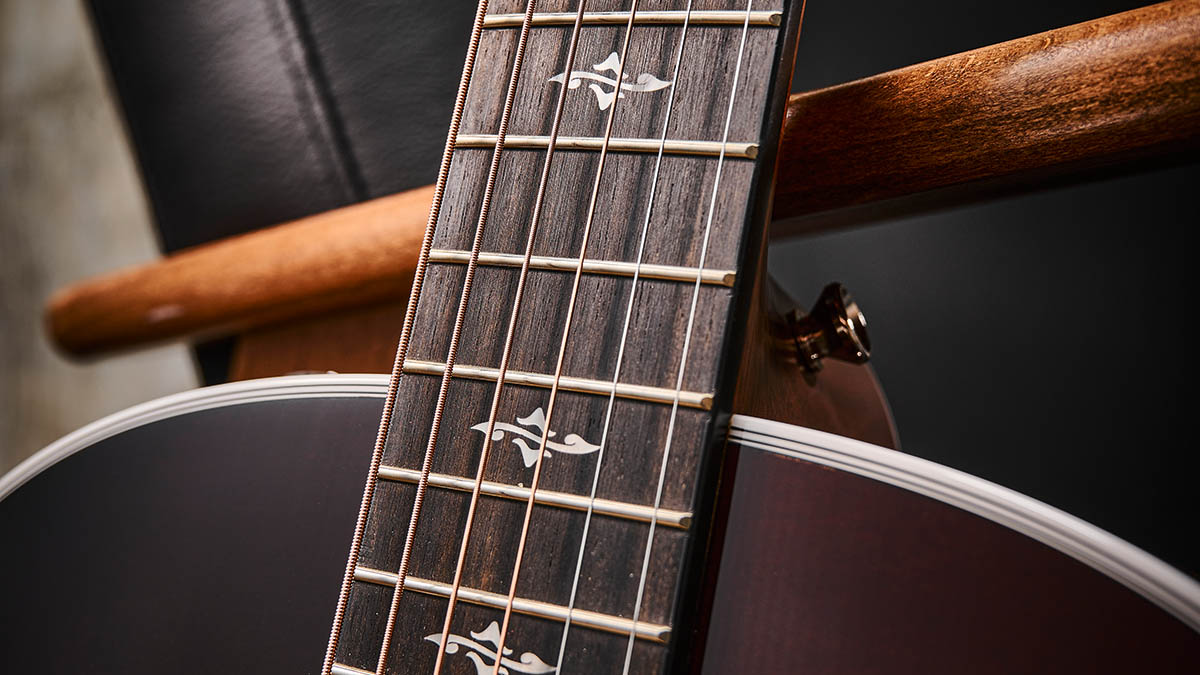 Verdict
We've said it before and we'll say it again. Taylor is on a real roll at the moment, with new models and revamped old ones coming out almost as fast as the next Joe Bonamassa album! We also can't shy away from the fact that since Andy Powers has been involved the guitars have got better and better – and they were pretty darned good in the first place.
We do like the shape and size of the Grand Pacific, which was introduced to the Taylor line-up back in 2019 (a year after the V-Class bracing arrived). It's not dissimilar in internal volume to a dreadnought but with more of a classical guitar outline. It's as versatile as a dread, too, and this one is not only great to look at but would be a fine sofa-to-stage partner, too.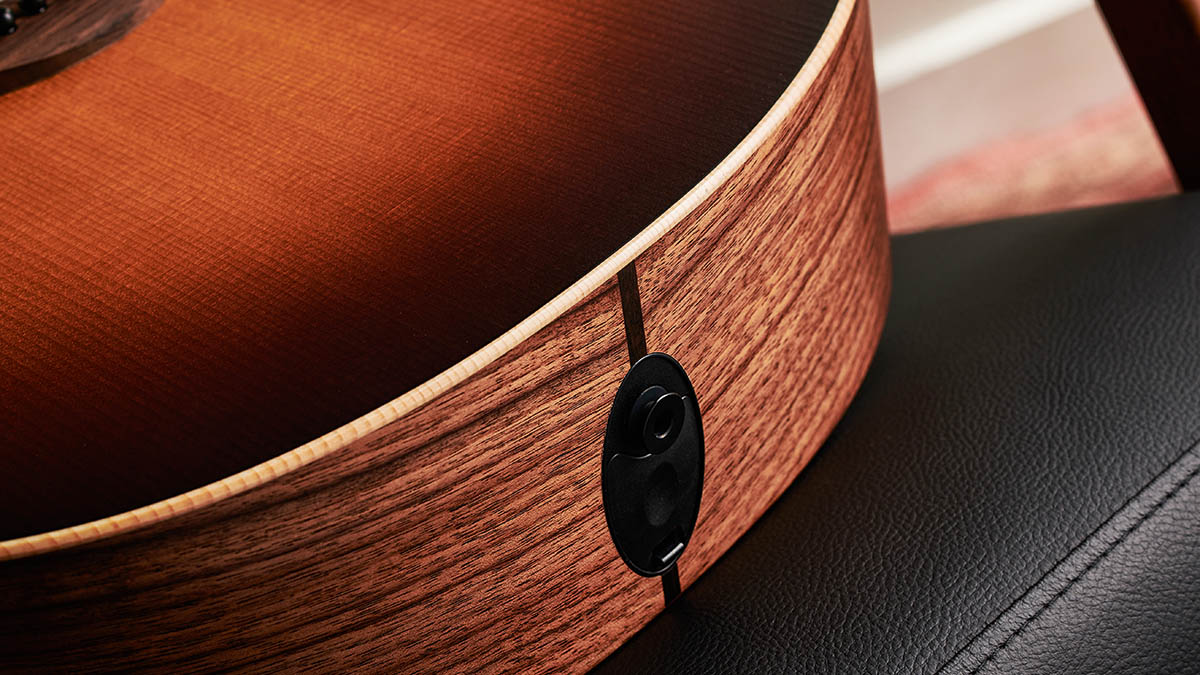 The Grand Concert body has been around for yonks (this reviewer owned a particularly beautiful 912c back in the '90s), but Powers' V-Class bracing has not only brought it up to date but given it the kind of sonic personality it possibly once lacked. These are both extremely tasty guitars and it would be hard to choose a winner.
There is one three-and-a-half-grand-sized fly in the ointment, though. These are classed as Taylor's workhorse guitars and that seems like a pretty hefty price tag. But since they go directly head to head with Martin's Reimagined range, at virtually identical price points, perhaps we should simply say: if you want quality then be prepared to pay for it. It certainly doesn't diminish them as instruments, though, so we'd heartily recommend these newly revamped models.  
Specs

PRICE: $2,999/£3,539 (inc case)
ORIGIN: USA
TYPE: Non-cutaway Grand Pacific, electro-acoustic
TOP: Canadian Sitka spruce with V-Class bracing 
BACK/SIDES: Solid Indian rosewood
MAX RIM DEPTH: 110mm
MAX BODY WIDTH: 407mm
NECK: Neo-tropical mahogany with scarfed-on headstock and 2-piece heel
SCALE LENGTH: 648mm (25.5")
TUNERS: Taylor (Schaller) Deluxe sealed
NUT/WIDTH: Black Tusq/45mm
FINGERBOARD: West African Crelicam ebony
FRETS: 21, medium-fine
BRIDGE/SPACING: Ebony with white Micarta saddle, 56mm 
ELECTRICS: Taylor Expression System 2
WEIGHT (kg/lb): 1.85/4.1
OPTIONS: None
RANGE OPTIONS: Taylor 414ce ($2,999/£3,539), Grand Auditorium size, otherwise all other appointments identical
LEFT-HANDERS: Yes
FINISH: Tobacco sunburst top; natural gloss back and side and satin neck
Taylor 412ce

PRICE: $2,999/£3,539 (inc case)
ORIGIN: USA
TYPE: Cutaway Grand Concert, electro-acoustic
TOP: Canadian Sitka spruce with V-Class bracing 
BACK/SIDES: Solid Indian rosewood
MAX RIM DEPTH: 104mm
MAX BODY WIDTH: 384mm
NECK: Neo-Tropical mahogany with scarfed-on headstock and 2-piece heel
SCALE LENGTH: 632mm (24.875")
TUNERS: Taylor (Schaller) Deluxe sealed
NUT/WIDTH: Black Tusq/45mm
FINGERBOARD: West African Crelicam ebony
FRETS: 21, medium-fine
BRIDGE/SPACING: Ebony with white Micarta saddle, 56mm 
ELECTRICS: Taylor Expression System 2
WEIGHT (kg/lb): 1.81/4
OPTIONS: None
RANGE OPTIONS: See 417e
LEFT-HANDERS: Yes
FINISH: Tobacco sunburst top; natural gloss back and side and satin neck list
CONTACT: Taylor Guitars
Thank you for reading 5 articles this month*
Join now for unlimited access
US pricing $3.99 per month or $39.00 per year
UK pricing £2.99 per month or £29.00 per year 
Europe pricing €3.49 per month or €34.00 per year
*Read 5 free articles per month without a subscription
Join now for unlimited access
Prices from £2.99/$3.99/€3.49